Shaoxing Yueda Cotton Textile Co., Ltd.
Shaoxing Yueda Cotton Textile Co., Ltd.At present, it is a professional manufacturing private cotton textile backbone enterprise in the domestic interlining industry chain. Its "bigger" trademark has been rated as a famous trademark in Zhejiang Province. The company was founded in 2004 with a total investment of 70 million yuan,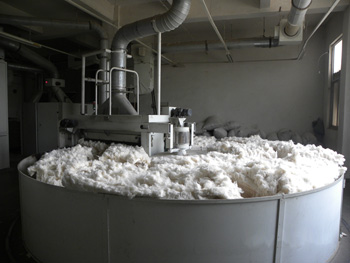 A complete set of advanced domestic production equipment and technology has been introduced, with more than 500 employees.
  In recent years, the company has earnestly implemented the scientific development concept, adhered to people-oriented, entrepreneurship and innovation, made great efforts to implement the working mechanism of enterprise labor union actively participating in safety production, extensively carried out "Ankang Cup" competition activities, continuously improved safety production management, and promoted the win-win of enterprise benefit and safety production. In recent years, the trade union of enterprises has also won the "three-level joint creation", "demonstration grassroots trade union" and "Ankang Cup" and "top ten industrial comprehensive enterprises" in Shaoxing.
  Over the past few years, the enterprise has always adhered to the business philosophy of "survival by quality, development by reputation" and the service tenet of "customer needs and customer first". Its products have not only established their foothold in Hangzhou, Ningbo and other markets in Zhejiang Province, but also supported in Shanghai, Guangdong, Hebei, Qingdao, Jiangsu, Fujian, Shandong and other provinces and cities, taking Zhejiang Yueda Industrial Group Co., Ltd. as an example There are a number of stable customers, but also exported to Singapore and India and other countries, in the clothing accessories set up a good reputation.